New Music – Commissions
The Debussy Trio Music Foundation (DTMF) promotes programs of chamber music with harp, flute and viola. This includes The Debussy Trio in performances of commissioned new works, world premieres, international tours, radio broadcasts, recordings, and Musical Adventures for kids and families.
Commissions, primarily of American composers, encompass a wide range of musical styles and ensembles with harp, flute and viola as the core group. Many are now published by Fatrock Ink and are available in print and download formats. See list of Debussy Trio Music competition and commission winners.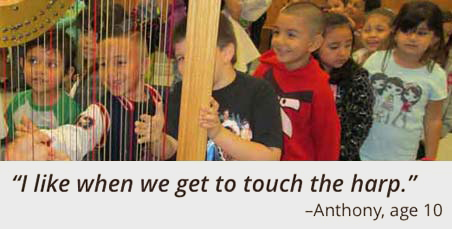 You can open a whole new music world of acoustic instruments to kids in your community by funding The Trio's exciting, interactive Musical Adventures. See a child's face light up as he or she discovers the real-life sounds, up close and personal. Kids love hands-on experience and want to learn to play the instruments. The music they hear relates to past and present events such as the first walk on the moon.
Donate any amount you wish, and thank you for your support!
The Debussy Trio has performed more than 1,500 concerts for over 400,000 young people, from every cultural background and age level.
Donate any amount you wish, and thank you for your support!